How u suppose to keep ur cool when you got Donald Trump and Hillary Clinton singing Time Of My Life like they were born for this moment, see this video. It's so heart-breaking, yet addictive, of course it'll go viral overnight. I must have watched this video like ten times. Time to sober up and write a review about reality (specifically Trump).
First of all, this video inherently contradicts the actual situation. Trump and Clinton didn't even shake hands in the beginning of the second debate. The more beautiful the imaginary scenario featured in the video, which is pure harmony. Makes you wish this magic was real. Although who knows, maybe all of this is a show and Hillary "hired" Trump, who doesn't really want to become a president and is used as an antihero placeholder to eliminate the real competitors and distract from Hillary's shady background. So much for bold theories.
The main achievement of this video is probably that it makes Trump seem so different than he is usually perceived. This is due to him not speaking, not using his voice, and instead singing a beautiful song. In fact, words are his greatest weakness and blessing at the same time.
For the larger part I've been really allergic to Trump's rhetoric, because for a long time it has just sounded dumb to me. I couldn't even bear to watch the debates completely and had to close the window a couple of minutes into him speaking because my brain started to hurt. But this obnoxious outer shell could be a very smart construction.
While he's being perceived as not very bright by many people1, mainly due to his repetitive, simplified (basic cognition level2) language use, he does take advantage of extremely effective techniques, which is a bit scary and which has probably helped him get that far in the first place.
1. For one it's this kind of direct imagery (crooked Hillary, poisoning the minds of American people) that has the potential to stick in people's heads, even though it's not backed by any facts, or is an empty statement. Metaphors have been used in politics for ages, Trump just takes it further by being more bold and speaking of building an actual wall, of putting Hillary in jail or the media rigging the election.
2. Another key aspect of Trump's rhetoric is surely the overall emotionality that he's radiating. Most of what he says sounds either like agitation, has an aggressive undertone, or outrages people. It is known since Aristotle that emotion is one of three means of persuasion.3 4
Emotional rhetoric draws attention and makes you stand out more. This stuff is everywhere, in his speeches, in his tweets, it seems like it's in everything he says, and it makes him so polarizing.
3. He also uses a lot of repetition. This is the most stupid and at the same time the most effective method of getting your message across. If you repeat something often enough, people will eventually believe it.5 It's like the brute force of rhetoric. The brain likes patterns and it likes repetitions. I for my part sometimes find myself annoyed by repetition in everyday conversations. But in this case I mean repetition in the widest sense: stuff like alliterations, chiasms, rhymes and so on.
4. His vocab is way reduced. This has several effects: His appeals are semantically very direct, simple and general, so they are accessed by rather primary levels of perception, maybe bypassing some critical mechanisms of the viewership. Also the interpretation spectrum for these statements is really wide, making people rather agree than disagree at times. Most importantly though: Using simplified English ensures exposure to all people.
It's somehow disquieting to watch irrationality, self-contradiction and almost barbarian loudness move political agenda out of the focus, turning Trump more and more into a brand and distracting the media. Becoming personal means stepping away from professional. There must be very competent people behind this, as I seriously doubt that Trump himself is that good. Regardless of who of both candidates is ethically more questionable, this is going to be, to put it in a euphemistic way, interesting.
As for the whole grabbing them by the p*ssy part: I think the media outcry might go a bit too far, or maybe I accidentally surrounded myself by certain media channels and am seeing the same phenomenon everywhere. Yesterday I watched the footage of Trump and Billy Bush, during which Trump said these things that got many people so outraged, and judging by the context and Trump's body language (especially when he gets out of the interview bus to meet the woman who was the reason for the whole convo), he doesn't seem like someone who would actually break social conventions and approach women like the animal that the media6 portrays him to be.
Of course this still doesn't take back the effect his remarks might have on public perception of him and (trust into) politics in general, not to mention all the young impressionable minds who now might develop the ambition to grab p*ssies when they grow up. So the true disaster here is the impact on public opinion, collective state of mind, zeitgeist, whatever fits best. Because this topic has been going around in many, many headlines.
The more potentially destructive consequences are at stake here: Triggering a discourse based on these circumstances means regression towards othering of women, who make up about half of the population and are now again treated as a minority by the public. Most people (I've read about), including public figures7, now have to "stand up for our wives/daughters/mothers/sisters". While this movement looks like a legit reaction, it's rather reinforcing the problem and reinstalls stereotypes that we're supposed to overcome in order to get to some kind of equality. I don't think it's leading to a constructive discussion. This topic is to be continued.
[Edit:] Because I seem to be especially enthusiastic about Trump's rhetoric lately, I wrote a similar, but way more simple and spontaneous article in German to test a website for freelance writers. Make sure your AdBlock is turned on, should you click the link. A report is coming up.
---
References
(1) Also see the George W. Bush phenomenon. Obama, on the other hand, who doesn't seem dumb, is following a different strategy. He puts more weight in intellectual rhetoric and doesn't use a wide range of emotional devices. He certainly did make people cry though.
(2) There's this article on this, although in German (Zeit)
(3) Aristotle on rhetoric (Stanford Encyclopedia)
(4) The three means of persuasion, according to Aristotle, are Ethos, Logos and Pathos. See this graphic (a reinterpretation for research publishers, via):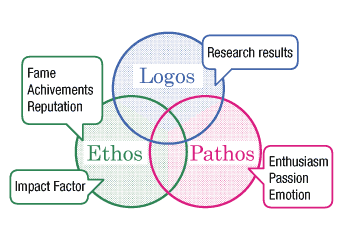 (5) Coined by Hitler and Goebbels, see Big lie
(6) Wikipedia: Mass Communication
(7) Michelle Obama's speech on Trump scandal
(*) Neil Gaiman inspired Add-On for Chrome that'll replace 'political correctness' with 'treating people with respect'
(**) I don't know what the heck this is, but I stumbled over this article as well